Bosnia and Herzegovina
Send cheap texts to Bosnia and Herzegovina for 4.1c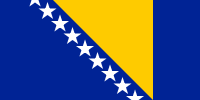 Send really cheap international texts to Bosnia and Herzegovina for just 4.1c per message with our Global SMS service. There are no contracts or monthly fees, you just pay for the texts you send.
Localphone also offers cheap calls to Bosnia and Herzegovina from anywhere in the world.
Prices are shown in Eurocents per SMS. Messages are split at 140 characters.