Malawi
Send cheap texts to Malawi for 4.8¢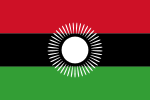 Send really cheap international texts to Malawi for just 4.8¢ per message with our Global SMS service. There are no contracts or monthly fees, you just pay for the texts you send.
Localphone also offers cheap calls to Malawi from anywhere in the world.
Prices are shown in United States cents per SMS. Messages are split at 140 characters.
Incoming numbers are meant for average retail customer use and will be restricted to 2 incoming concurrent calls. This means that high volumes of incoming calls are not allowed. Incoming numbers are not to be used for call centers or business use where a large amount of incoming calls come in to each number. There will be a $0.01 surcharge assessed on a per call basis for each call to any incoming number that exceeds 100 calls per day per number.